Ever wanted to replay a mission in Assassin's Creed, but without replaying the whole game again? That is exactly where ACPR will help you.
All you have to do is playing until you can start the mission and then run ACPR. It will then clone your savegame and create a backup. Then there will be a new profile in Assassin's Creed from which the mission can be started. After completing the mission, ACPR can restore the profile from the backup so that you can play the mission again.
Additionally you can rename your profile in Assassin's Creed (that is where ACPR actually got its name from). Unlike when you create a new profile in Assassin's Creed ACPR will allow you to
Enter a Profile Name with a length of 25 characters (instead of only 20)
Insert insert some ingame symbols like the sword, hidden blade, and eagle vision.
Download
Current version is ACPR 1.4 (April 9th, 2010); requires Java[1]. Download Assassin's Creed Profile Renamer
Or, hack on it: ACPR on GitHub.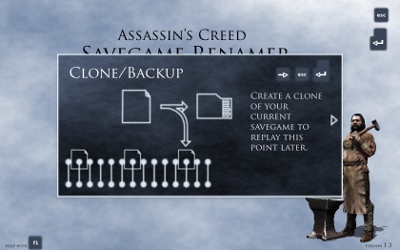 Video
I've created a short video showing the process of skipping repetitive parts. Make sure to read the description too. Note that the video shows ACPR 1.2 where the savegames had to be copied manually; This is not necessary any longer since version 1.3.
As this video is licensed under the Creative Commons, you can download the original file here: ACPR-Repetitive-Parts-2000k2-final.avi.
The following videos describe this process for the console versions:
Bugs/Features
Should you encounter any bugs or want to suggest a new feature, please let me know here.
Changelog 1.4:
ACPR no longer insists on .opt files when creating a backup/clone.
Available keys added on the GUI
Cannot stuck on the help dialog anymore when pressing F1 multiple times.
Changelog 1.3:
ACPR is now able to clone a savegame (which had to be done manually before by going to the Savegames directory and copying/renaming the files).
After replaying a mission, ACPR copies the backup back (had to be done manually before too).
Filechooser has been extended, now also displays date and time when you last played the selected savegame.
Changelog 1.2.1:
More room for profile name (if many tags used)
Fixed a bug with the byte display
Footnotes